Need A Plotter?
Start Now!
Continue >>

FREE Customized Price Quotes


FREE Access to a Purchasing Advisor
Wide-format printer pricing
Wide-format printers are predictably more expensive than standard desktop printers, but there is a fairly wide range of prices within the category. Knowing the price ranges will help you avoid sticker shock and prepare you for negotiating with suppliers, so here's some basic info.
There are a few significant factors that influence price. The most significant is scanning/copying functionality, which can double the price of a plotter. If that seems extreme, consider that you're basically getting two machines in one. Size also plays a big role: the wider the printer, the more you can expect to pay.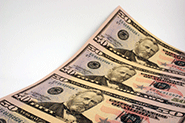 For example, low end wide-format printers start at around $3,000 for a 24" printer-only model. More common are prices between $5,000 and $12,000 for popular 36" printers. You'll pay more for multiple media rolls, cutters, and other add-ons, as well as better print quality and reliability.
Wide-format printers with scanning and copying functionality start at around $10,000 and can reach $30,000. Again, wider printers are more expensive, so not buying more width than you need is an important way to save money.
When you get price quotes from several dealers, do a reality check. If one quote is thousands of dollars less than all the rest, go back and review their proposal carefully to make sure they're offering everything you need. Choosing the lowest bid may seem like a smart move up front, but you could regret it down the line.
Finally, be sure to consider costs for consumables in your pricing evaluation. Consumables – the paper, ink, toner, print heads, and any other parts or supplies that need regular replacement – can cost thousands of dollars per year if you use the printer regularly. Knowing the relative costs of consumables can change your purchasing decision.
Choosing a wide-format printer dealer
In addition to choosing the right model, you also should take care when choosing a wide-format printer dealer. The cost and complexity of these machines mean that maintenance is extremely important, so it pays to find out what kind of support the dealer offers.
First, make sure you're clear on who is responsible for all aspects of maintenance and support: installation, scheduled cleanings and maintenance, emergency repairs, and troubleshooting. A written service agreement is the best way to avoid any confusion.
Getting the service policies in writing also helps you compare dealers. Look at the service policies and charges and factor those into the total price from each vendor – it may be worth paying a little extra up front to get long-term maintenance.