Need A Plotter?
Start Now!
Continue >>

FREE Customized Price Quotes


FREE Access to a Purchasing Advisor
How to shop for a plotter
The starting point for your plotter evaluation should be squarely focused on your business: what do you need to print? That simple question can lead to some important decisions about the type of wide-format printer you need.
Don't just focus on your usual print jobs when you're doing this evaluation. Maybe your staff had to send some jobs out to the local copy shop because they couldn't be handled in-house. Maybe you do almost everything in black and white… except those annual reports. It's the exceptions that will get you into trouble down the line, so try to cover all your bases up front. Also make sure you're planning for the future: even if your needs are fairly straightforward now, it's worth buying with an eye on expansion or new projects.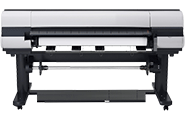 Width is the single most important factor: you can add accessories and upgrade software after the purchase, but you can't make the printer any wider. Most wide format printers fall in the range of 24" to 60" – make sure the model you choose is capable of handling your largest print jobs. If your needs run even larger, look for "grand format" printers – they're available in configurations that can handle widths up to 16'.
A close second is what you need to print on. Engineering and construction firms don't usually have very specific requirements here; marketing firms that want to print on vinyl, fabric, or other heavy-duty materials should do more investigation into the types of media a particular printer can support. Don't forget to ask about types of ink as well.
The software you use is another important consideration. Make sure the dealer or manufacturer can provide the correct drivers for your software, whether you print from image editing software or a CAD tool. When installed on your computer, the right drivers help your software communicate with the plotter.
Your software will also need to speak the same language as the wide format printer or plotter. There are several common printer languages out there, the best-known being PostScript and PDF. Engineering applications may use HPGL, HPGL2, or TIFF instead. Check what printer languages your applications use and you'll be able to get the right match, ensuring that your printed documents look as close as possible to what's on your screen.
Samples are key
Knowing what you need is an important start – but actually examining sample printouts is another essential step. At a minimum, you should be able to get printouts of sample files that you provide. Look at the results under different lighting conditions, from far and near, to judge print quality and color for yourself.
Some dealers will bring a demonstration model to your office, which lets you try it out in a more realistic setting: on your network, with your software. If you've narrowed your choices down to 2 or 3 models, this is an excellent way to really drive the comparison.